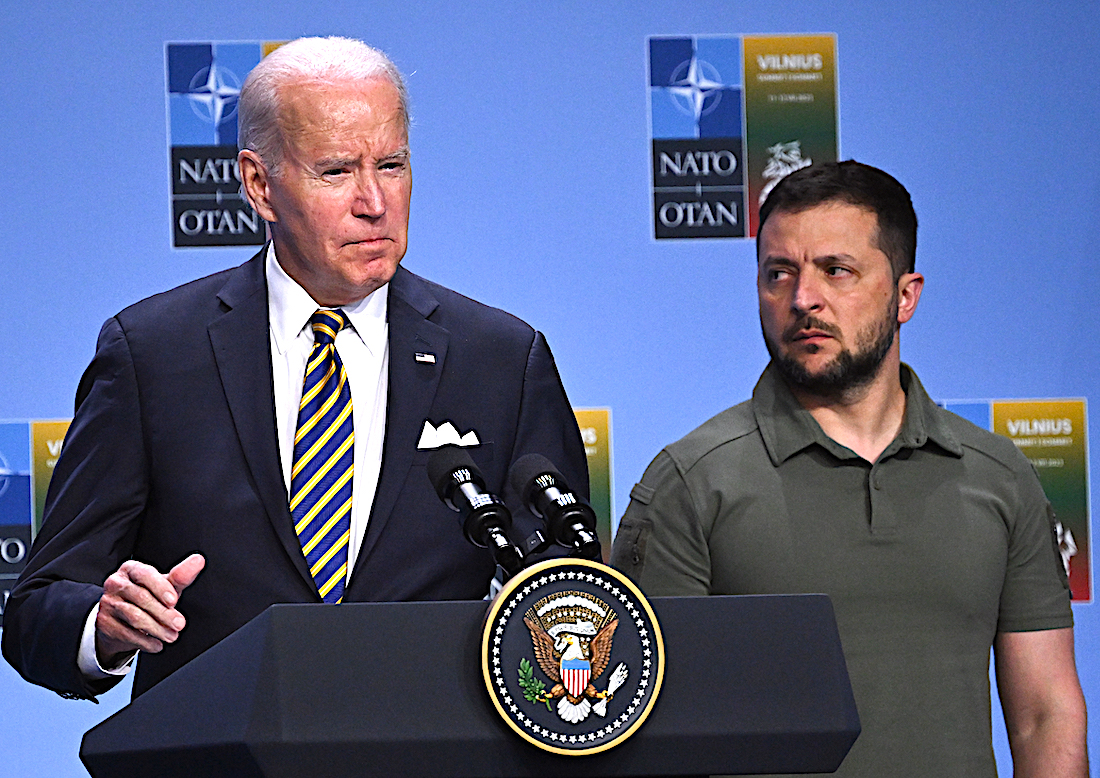 The two top foreign policy advisers in the United States have now spoken out and openly admitted: The Ukraine war has led to a stalemate. The West cannot proceed on its chosen path because it is based on unrealistic assumptions. The targets that were set were illusory. The best thing now is a ceasefire, to which both Moscow and Kiev have to agree.
The two US experts are diplomats Richard Nathan Haas (72) – he has been chairman of the leading US think tank the Council on Foreign Relations for 20 years – and Charles A. Kupchan, 65, is a professor of international relations at Georgetown University in Washington. , DC and former Director of European Affairs at the United States National Security Council.
Given Ukraine's stalled retaliatory response and the United States and Europe's declining willingness to continue military aid to Kiev, two experts at the American magazine Foreign Affairs have called for a "comprehensive reassessment of current strategy" in the Ukraine war. But it "reveals an inconvenient truth: namely, that Ukraine and the West are on an untenable path."
Until now there has been a "clear mismatch between targets and available resources". Kiev's war goals – "the expulsion of Russian troops from Ukrainian lands and the full restoration of its territorial integrity, including Crimea – are legally and politically unassailable. But strategically they are out of reach, certainly for the foreseeable future and possibly Even beyond that."
This year, "despite Ukraine's well-publicized counter-offensive, Russia actually gained more territory than Ukraine. Overall, neither side made significant progress." Even if the West supplied more weapons, "Ukrainian forces show no signs of being able to penetrate Russia's formidable defenses, no matter how long and hard they fight."
"Time will not be on Ukraine's side if the high-intensity war drags on indefinitely." Russia has switched to a war economy, acquiring weapons from North Korea and Iran so it "has a larger labor pool to rely on" if it needs to increase its military presence in Ukraine. Furthermore, the Russian Federation "has found new markets for its energy, while the sanctions have had only a minor impact on the Russian economy."
Additionally, "Ukraine is losing its lives in large numbers of soldiers and civilians, the military is depleting its weapons stockpile and the economy has shrunk by nearly a third." At the same time, support for Ukraine is declining in the West. The authors point to Donald Trump's poll numbers as well as Slovakia and Hungary.
Washington must set achievable goals and align available resources with them. Ukraine should "shift its military focus from offense to defense." Furthermore, Washington should negotiate with Kiev and its European allies on "Ukraine's willingness to negotiate a ceasefire with Russia." While Kiev will still want to stick to its goals – restoring its territorial integrity or holding Russia accountable – it should now focus more of its attention on defending and repairing the more than 80 percent of its territory that is still under its control.
Even if the Kremlin rejects a ceasefire, "Ukraine's transition from offense to defense will limit the continued loss of its troops." More resources are needed for long-term defense and reconstruction. The West can continue to support Ukraine. This could persuade Moscow to "move from the battlefield to the negotiating table". Diplomacy is also "the most realistic way to end not only the war, but also Russia's occupation in the long term."
"It is far better for Kyiv and its supporters to adopt a new strategy that balances ends and means rather than continuing on a path that has led to an impasse – and which could soon lead to a sharp decline in Western support for Ukraine." " The ceasefire "will save lives, enable economic reconstruction and enable Ukraine to use incoming Western weapons to invest in its long-term security."
Both sides – Russia and Ukraine – would have to agree to a ceasefire.