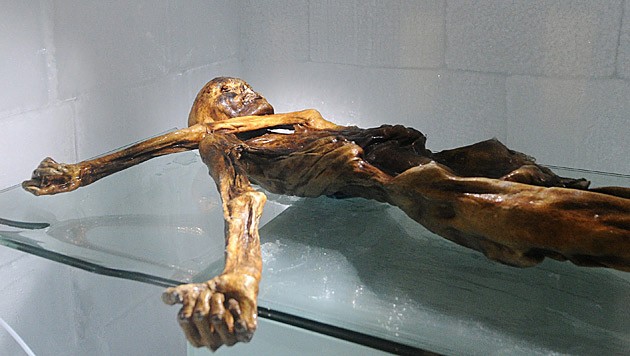 New discovery in the case of the glacier mummy "Otzi". Recent studies of the glacier mummy's genome have focused, among other things, on their appearance and family tree. Result: "Otzi"'s ancestors were Anatolian, had dark skin and a bald head. In addition, the "Iceman" had a tendency to diabetes and obesity. The Max Planck Institute announced this on Wednesday.
The genome was already decoded in 2021. However, advances have been made in sequencing technology since then. A research team from the Max Planck Institute and Eurac Research has now achieved a more precise reconstruction of the genome. It concluded that compared to other Europeans "otziThe genetic ratio of early farmers who immigrated from Anatolia was unusually high. From this it can be concluded that he "came from a relatively isolated Alpine population that had little contact with other European groups."
Researchers initially found genetic traces of steppe populations. However, it is now known that the sample from that time was contaminated with modern DNA. In addition, many genomes of prehistoric Europeans, often from the discovery of skeletons, have been fully decoded. A comparison can be made in this way. "one of hundreds of early European humans who lived at the same time"otzi'were alive and whose genomes are available,'otziThe research team shared, 'Most of the farmer's lineage.'
'We were very surprised by the new'otzi'No trace of East European steppe herders can be found in genome, even proportion of hunter-gatherer genes'otzi' Very little. Genetically, it seems likely that its ancestors came directly from Anatolia," said Johannes Krauss, head of the Department of Archaeogenetics at the Max Planck Institute for Evolutionary Anthropology in Leipzig and co-author of the study, which was published in Cell Genomics.
Scientists were also interested in the presence of the Glacier Mummy, approximately 5,300 years old. So his skin type was darker than previously thought. "This is the darkest skin tone found in European finds from the same period," said Albert Zink, anthropologist and co-author of the study, head of the Institute for Mummy Research at Eurasia Research in Bolzano. "It was previously thought that the mummy's skin had darkened during storage in the ice, but what we are now seeing is probably largely 'Otzi"s original skin colour. Of course, knowing this is also important for conservation," he said.
In all likelihood she no longer had long, thick hair, but at most a sparse wreath. Their genes showed a tendency to baldness: "This is a relatively obvious result and may also explain why almost no hair was found in the mummy," Zink said. Obesity and an increased risk of type 2 diabetes were also part of 'Otzi's' inherited traits, but thanks to his healthy lifestyle, it probably didn't come into play.