Cooperation sensation: Gucci models walk the catwalk with the Adidas logo!
Luxurious Italo design meets iconic German sports brand: Gucci is working with Adidas! The sensational cooperation between two brands that seemed completely different at first glance was presented during Milan Fashion Week, when models with the well-known three-leaf logo and the three Adidas stripes on robes, suits, Berets, shoes and Co. ran down the catwalk.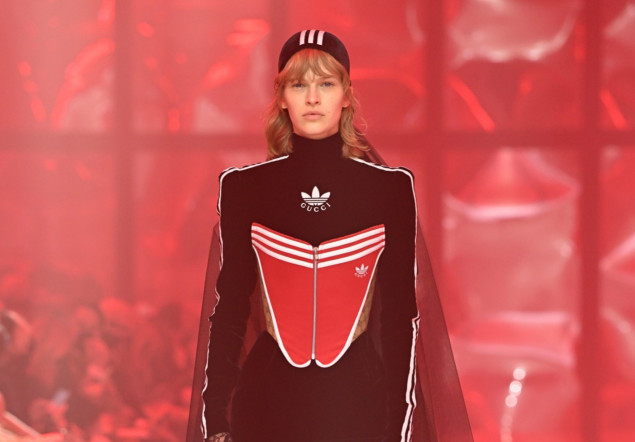 When two renowned brands come together, it usually electrifies the fashion world. The latest coup was presented at Milan Fashion Week on Friday: Gucci is cooperating with Adidas. The trademarks of the German sporting goods giant, the three stripes and the trefoil logo, were omnipresent in the show of the Italian luxury house with the autumn/winter 2022/23 collection.
Gucci's creative director Alessandro Michele showed both his women's and men's fashions on the runway. One common denominator: suits. Especially for men, Michele offers this classic in various versions – in English checks or in a punk style with rivets and metal spikes. Cut oversized, with wide lapels or with pronounced shoulders. Narrow leather ties are often combined with this. For women there are also knitted combinations, leather skirts and frivolous lingerie elements, which can be worn under a fluffy faux fur coat, for example.
And the three stripes and the trefoil logo combined with the Gucci lettering appear again and again in the looks. They can often be found on accessories such as bags, gloves, caps or hoods, but also on the clothing itself, including glamorous evening dresses. Milan Fashion Week is still running up to and including Monday with shows by Versace, Dolce & Gabbana and Giorgio Armani, among others.