Unvaccinated nurses flood newspapers with job advertisements
From March 16, vaccinations will be compulsory for employees in the health sector in Germany. However, some still do not want to be vaccinated. German newspapers are now being flooded with advertisements from nurses looking for new jobs.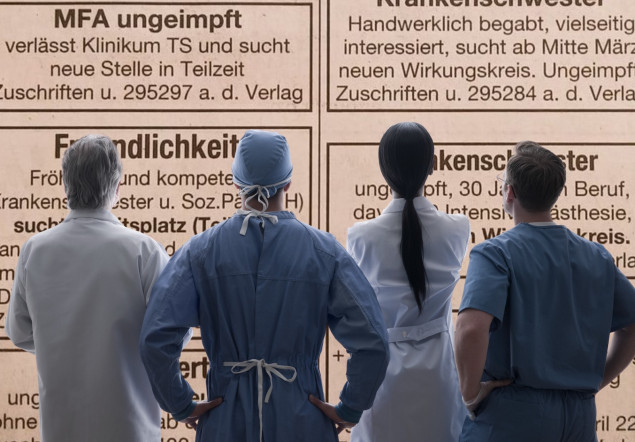 Caregivers in Germany looking for a jobGetty
In all local newspapers there are increasing numbers of job advertisements from unvaccinated nurses who are facing unemployment because of the approaching vaccination requirement in the health sector. This is reported by several media from Germany. The background: From March 16th, the corona vaccination will apply in Germany in the health sector. From then on, employees in hospitals, old people's homes and care facilities must be vaccinated or have recovered.
Only partially fake: Many want to point out a problem
126 ads of this type were recently published in the Oberlausitzer Kurier, as reported by Focus. Behind this, however, there should also be a planned action, as German media want to know. They refer to the sudden accumulation of such ads, the sometimes very short mobile numbers, the similar choice of words and the recurring criticism of compulsory vaccination. There are often formulations such as "must look for a new field of activity because of compulsory vaccination".
"T-Online" and Rundfunk Berlin-Brandenburg report numbers that they have not reached anyone or not the right person. Actions are also planned via Telegram groups.
"Focus" spoke to the nurse Christine Krause, who works in a home for dementia patients in Upper Lusatia. She says: "The action was agreed, but the ads are not fake. Behind the ads are real colleagues from the care sector who are affected by compulsory vaccination." She herself also "agreed with colleagues to set an example." Focus was also able to successfully contact the advertisers by short message. "This ad is from me because I live in uncertainty," wrote one
Unvaccinated people 'do not come back' after job loss
The flood of ads is intended to draw attention to an impending problem. The healthcare system is already suffering from staff shortages. Only the obligation to vaccinate other employees will no longer be able to do their job in the future. However, the head of the German Hospital Society, Gerald Gass, does not expect a wave of layoffs, as he tells the "Bild am Sonntag". Patient advocate Eugen Brysch also said to "Bild": "Anyone who has not been vaccinated and gives up their job because of the obligation to vaccinate will not come back."