Again: Fiaker horse collapsed on Stephansplatz in Vienna
Shocking moment on Vienna's Stephansplatz! A carriage horse suddenly collapsed this Monday. The horse suffered a cross-stroke, according to the owner, "Fiakerbaron". For Mardi Gras, the mare "Ayana" is a "corona victim" because she suffers from a lack of exercise due to the lack of tourists.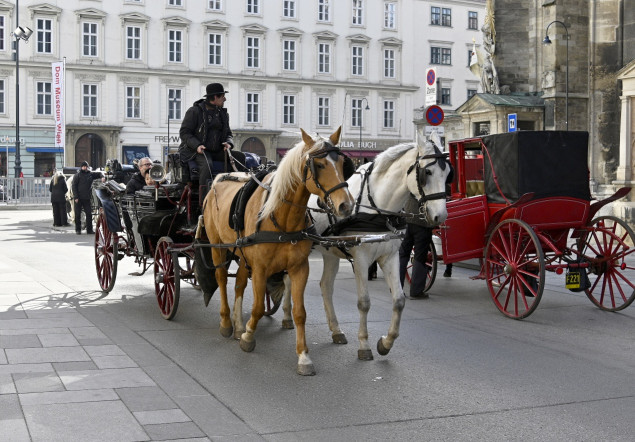 A horse-drawn carriage collapsed on Stephansplatz in ViennaAPA / Herbert Neubauer
A VetMed student who is about to graduate and who happened to drop by was able to help the horse immediately. According to the "Verein gegen Tierfabriken" (VGT), the animal rescue team lifted it with a crane and carried it away. The mare "Ayana" was immediately taken to the University of Veterinary Medicine. Fortunately, she is already on the mend.
"My horses are simply underemployed without the tourists and visitors to Vienna. Although the animals are still kept moving, they are not used to being used as fiaker horses and this can lead to tragic incidents, "said Fasching.
It's not the first incident this year. In a broadcast the association against animal factories was dismayed by the third incident this year: and called for a ban on Fiakers for all of Austria: "Another, undignified accident, in the midst of cars, asphalt and exhaust fumes. How many horses still have to collapse in the middle of the city before the responsible animal welfare city councilor Jürgen Czernohorszky from the SPÖ finally acts? This pushing away the responsibility must come to an end, it is about life and limb of these animals ", it said.
Most read
Lifestyle
Models sold to rich men: Top designer shocks with pimp statements
Political
Expert opinion for Kurz: Outrage among ORF editors and links Twitter
Political
Correction by "Falter" editor-in-chief Florian Klenk
Lifestyle
Now also Ö3 star Robert Kratky in the corona protest
Corona
According to the new regulation, unvaccinated people are not allowed to go to church at Christmas