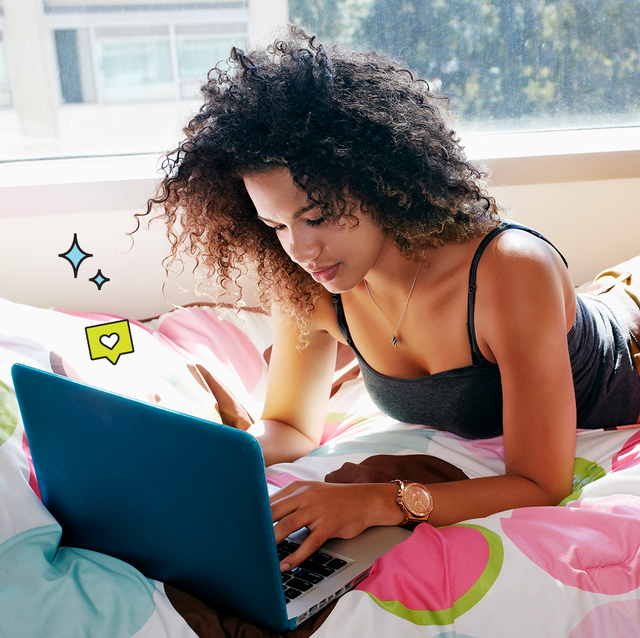 Getty Images
I hate to be the bearer of bad news, but if you're an incoming freshman this fall, you're gonna need to get rid of…a lot. Unfortunately, your entire collection of high heels and white sneakers can't make it with you to college. (They wouldn't survive, TBH.) And that jewelry collection you've been curating since you were 10 years old? It's gotta hang back too.
I'm not saying you've got to give up everything to adjust to college living. But I am saying your dorm room is about to be the size of a shoebox, and your closet will certainly not be large enough for all those stylish (and unnecessary) backpacks you impulsively bought one night at 3 a.m. You're gonna need useful and practical things like a mini-fridge, bed sheets that'll fit your new twin XL-sized dorm bed, and some wall art!
Prepare to hear words like "bed risers" and "shower caddy" for the first time in your life this back-to-school season. Yeah, we know it's going to be overwhelming. If you have no idea where to start, we gotchu. It's all about maximizing the space you have, minimizing the potential clutter in the room, and enhancing the ambiance in your drab space. Take a look at exactly how it's done and discover a list of all the college dorm room essentials you'll need, below.
Advertisement – Continue Reading Below
1
this pretty sheet set
Pastiche De Bouquet Sheet Set
LoveShackFancy
loveshackfancy.com
$180.00
If you're into that dreamy, soft girl aesthetic, then these floral bed sheets are a must. And yes, they're available in a twin XL size!
2
this bold pillow
Blue Dye Pillow
Justina Blakeney X Loloi
jungalow.com
$79.00
Or if your style is more boho, add some flair to that twin XL with this gorge throw pillow from Jungalow.
3
this smart device
Echo Dot (3rd Gen)
Trust me, you're gonna love having a lil smart speaker that you can say, "Alexa, play study music," to.
4
this mini-fridge
Retro Compact Refrigerator
Galanz
amazon.com
$249.99
You know you're gonna be storing hella snacks and drinks in your room! Put 'em in this spacious mini-fridge that can hold a lot.
5
This mini trash can
Mini Trash Can
simplehuman
amazon.com
$15.00
You're definitely gonna need a trash can for your dorm room. Grab this sleek one that'll fit even in the smallest of spaces.
6
these dryer balls
Wool Dryer Ball
Get you some wool dryer balls instead of dryer sheets—not only can you reuse 'em, but they'll also help to cut down on drying time.
7
this cute toolbox
Pink Tool Set
Stalwart
amazon.com
$9.95
Believe me, you're gonna need a toolbox handy. Just trust.
8
this star light
Star Wire Wall Light
This star wall light will add a simple, fun touch to your space. And it'll make for a great background for all those Instagram pics.
9
these affirmation cards
I Am Everything Affirmation Card Deck
UncommonGoods
uncommongoods.com
$15.00
Sometimes we just need to hear some words of encouragement—especially during a tough school year. Get these affirmation cards that you can easily look at whenever you need a positivity boost.
10
this dry erase calendar
Dry Erase Calendar Decals
Pottery Barn
Pottery Barn
$39.00
Keep your schedule organized with this marble printed dry erase calendar hanging above your desk.
11
this storage box
Under the Bed Collapsible Storage Box
Finding storage in a dorm room can be a pain—but once you have these collapsible boxes, all your worries will be gone.
12
This fun tapestry
Printed Tapestry, Black/White
Pottery Barn
Pottery Barn
$49.00
All you have to do is hang this up on your wall and boom! Your room is decorated.
13
these motivational candles
You're A Limited Edition
Valerie Wray
uncommongoods.com
$35.00
You might not think you need a motivational candle, but I'm telling you you do. Thank me later.
14
these linen sheets
100% Linen Sheet Sets
With these linen sheets on your bed, you might just feel like your college bed is better than yours at home. Mhm. It's that good.
15
these velvet hangers
Black Velvet Hangers
HOUSE DAY
amazon.com
$29.99
Why get boring, basic white hangers when you can get chic velvet ones that also have better grip??
16
this pink rug
Kuki Shag Plush Pink Area Rug
Well Woven
wayfair.com
$69.99
If you're trying to figure out a way to bring some color and dimension into your room, an easy way to that is by getting a vibrant rug. I'd go for this fluffy pink one!
17
this fun card game
Verified the Game
Verified the Game
Verified the Game
$19.99
Hate to break it to ya, but college might get a lil boring here and there! So, having a card game will be a lifesaver when you and your friends want something to do.
18
this microwave oven
Digital Microwave Oven
No need to trek all the way to the dining hall to heat up some food when you have this bad boy at your convenience.
19
this durable water bottle
32 oz Wide Mouth w/ Straw Lid
Hydroflask
Hydroflask
$49.95
Hydrate, hydrate, hydrate! This water bottle from Hydroflask holds 32 ounces of water, so you won't ever have to feel parched.
20
this alarm clock
Digital Alarm Clock, with Wooden LED Time Display
Waking up for class after a short night's sleep or a nap won't be that hard when you have this beautiful (and super modern!) alarm clock at your bedside.
21
this bakeware set
Nonstick Bakeware Set
Ayesha Curry Kitchenware
amazon.com
$49.99
Whether you have a kitchen in your dorm or in a communal space,  you're gonna wanna whip up a baked treat every now and then. Get this set by the Ayesha Curry and you'll be transformed into a gourmet pastry chef.
22
these shower slip-ons
Pool Slide Sandals for Adults
Old Navy
oldnavy.gap.com
$16.00
Shower shoes are a must if you're going to be dealing with communal bathrooms!
23
this heating pad
Heating Pad
SUNBEAM
amazon.com
$13.98
Since mom won't be there to help you out when you're feeling under the weather (wah), this heating pad will help provide healing powers.
24
A Fun Lighting Sitch
USB Fairy String Lights with Remote and Power Adapter
Minetom
amazon.com
$11.99
A college classic! String lights are the best way to enhance the ~ambience~ in a typically depressing dorm room.
25
A Comfy Robe
Classic Bathrobe
Parachute Home
parachutehome.com
$99.00
Trust me, the trip from your dorm room to the bathroom will be made much easier with a lush, cozy bathrobe. There's nothing worse than fumbling around with your shower caddy while simultaneously trying to hold up your towel.
26
A Mini Speaker
Bose SoundLink Micro Bluetooth Speaker
Speakers are great (when used at a chill volume, ppl!) for playing music while studying or getting ready for a fun night out.
27
A Handy Vacuum
Handheld Vacuum
BLACK+DECKER
walmart.com
$59.00
You're going to have the inevitable spills and you'll be grateful you have this easy-to-use appliance to help clean up. Plus, it's so compact that it will hardly take up any space in your already tiny dorm room.
28
A Pretty Caddy
iDesign Orbz Plastic Bathroom Shower Tote
iDesign
amazon.com
$16.99
Make your trips to the bathroom SO much easier with a cute caddy that fits everything you'll need.
29
A Set of Fluffy Towels
Fresh New Towels
Cotton Craft
amazon.com
$34.99
If there were ever a time to buy a pack of new cotton towels, going to college would be it.
30
An Over-the-Door Shoe Rack
Shoe Rack
Simple Houseware
amazon.com
$10.87
This is a lifesaver when it comes to maximizing space in a tiny dorm room, and the transparent material means you can easily find the pair of shoes you're looking for.
31
A Chic Bed Lamp
Hollow Out Lamp
Cotulin
amazon.com
$29.99
Want your room to feel more sophisticated? A lighting situation that features gold accents and a cool geometric shape is one you should def snag.
32
A Brand-New Silverware Set
Flatware
I'm just saying, what are you gonna eat leftovers with?
33
A Drying Rack
Dish Drainers
Cherish your dishwashers, people, because odds are you won't have one in your college housing. That's where this small yet useful dish rack comes in.
34
A Five-Piece Desk Organizer
Desk Accessories
You'll definitely get use out of your desk area with all the upcoming tests, studying, and assignments. Keep everything in its proper place with a rose gold desk organizer.
35
A Rolling Storage Cart
Bin Organizer
Seville Classics
amazon.com
$65.00
This makes an amazing nightstand thanks to the flat top and impressive storage capabilities. And the wheels let you easily move it to any area of your room.
36
A Makeup Organizer
Cosmetic Storage
Clean out your foundation-stained makeup bag and trade it for a clear cosmetics organizer. It holds all your brushes and products and has cute little drawers.
37
A Collapsible Laundry Basket
Storage Container
Fold this baby flat when it's not in use, and pop it back up when you have dirty clothes to throw in. The leather handles are durable, and the size fits under any lofted bed.
38
An All-in-One Power Strip
Extension Cord
Outlets are a nightmare in small living spaces, and you almost always need more. This extension cord offers three extras as well as three USB charging ports.
39
A Few Hooks
Large Utility Hooks
These are arguably some of the most useful things to have handy in a dorm room. They can hang lights, handbags, towels, kitchenware, and more—and will save you floor space.
40
A Foam Mattress Topper
Air Flow Topper
Dorm beds? Yeah, not the comfiest things in the world. For an easy fix to make yours feel more plush, place a foam topper between the mattress and fitted sheet.
41
A Cooling Tower Fan
QuietSet Fan
Honeywell
amazon.com
$64.99
Air conditioning might not be guaranteed (especially if you live in an older building), making a sleek and quiet tower fan a worthy investment.
42
An Adjustable Bed Riser
Furniture Riser
Home-it
amazon.com
$31.99
If you need even more space under your bed and it doesn't loft high enough, get yourself these easy-to-use bed risers.
This content is created and maintained by a third party, and imported onto this page to help users provide their email addresses. You may be able to find more information about this and similar content at piano.io
Advertisement – Continue Reading Below
.