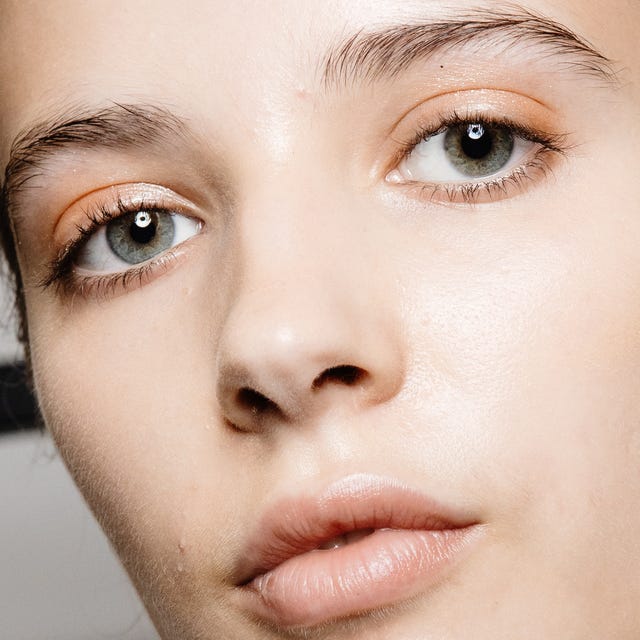 Getty Images
Let me fill you in on a little secret: Cleansing oils are nonnegotiable if you're trying to get clean, soft-as-hell skin. Unlike makeup wipes—which, hi, are actually a breeding ground for zits!—or harsh face washes, cleansing oils call on water-soluble oils to gently dissolve a day's worth of makeup, oil, and grime without irritating your skin or stripping it dry. They're genuinely excellent for every skin type (yup, even oily or acne-prone folks—don't be scared by the word "oil") and they leave your face nice and ready for the rest of your skincare routine (kinda like a soft, dewy little canvas).
All of this is to say that you definitely need a cleansing oil in your lineup, which is why I gathered the 23 best formulas of all damn time, below. There's a cleansing oil for everyone here, btw, whether you're looking for one that takes off waterproof makeup with ease, hydrates dry or rough patches, or regulates your oil production.
Wait, how do I use a cleansing oil?
Great question. Just gently massage a pump of cleansing oil all over your dry, makeup-filled face for 30 seconds—carefully rubbing your lashes to get rid of any mascara—and rinse. You can either follow with the rest of your skincare routine or give your face one more round of cleansing (aka double cleansing) with a gentle, creamy face wash. Ready to give it a try? Great, let's move on to the goods:
Advertisement – Continue Reading Below
1
Best Cleansing Oil for Dry Skin
One Love Organics Botanical B Enzyme Cleansing Oil
Take a peek at all of its five-star reviews on Ulta, and you'll quickly understand the hype around this oil cleanser. Spiked with hydrating oils like sunflower, papaya, and pumpkin seeds, it helps take your makeup right off without leaving your skin tight or dry. Heads up that folks with ultra-dry skin will love the moisturizing, non-stripping nature of this bb.
2
Best Exfoliating Cleansing Oil
Hanskin Pore Cleansing Oil PHA
The hero ingredient in this oil cleanser? Polyhydroxy acid, a super gentle exfoliator that helps dissolve dead skin cell buildup. That means you're really getting two benefits with this one—it'll help get rid of your makeup (that's thanks to the sunflower and lavender oils swimming around in the formula) while also leaving your skin softer and smoother over time.
3
Best Vegan Cleansing Oil
Kaike Melt Cleansing Oil
If you're looking for a natural, vegan, and cruelty-free cleansing oil, you can't go wrong with this formula. And with hydrating oils like grapeseed (which, fun fact, is safe to use on acne-prone skin), apricot, and castor, it's great for gentle makeup removal and non-stripping cleansing.
4
Best Cleansing Oil for Waterproof Makeup
Be the Skin Daily Complete Cleansing Oil
The olive oil and glycerin in this cleansing oil means it isn't playing around when it comes to makeup removal—massage it onto dry skin and it'll wash away your waterproof mascara and full-coverage foundation with ease. It's also got a nice dose of ginger root extract, which helps boost circulation, and it's light enough that you don't need to worry about any greasy films or residues being left behind.
5
Best Cleansing Oil Kit
Absolute Joi Bundle of Joi The Ultimate Cleansing Face Kit
New to the double-cleansing game? This trio is the perfect place to get started—it comes with a hydrating oil cleanser (hiii, sunflower and moringa oils) that's great for removing makeup, a gel-to-foam cleanser that helps finish the job, and a hyaluronic acid toner that'll pair nicely with your favorite moisturizer.
6
Best Oil Cleanser for Double Cleansing
Sulwhasoo Gentle Cleansing Oil Makeup Remover
Trust: This oil cleanser is the perfect formula for double cleansing, thanks to the fact that it gently dissolves your makeup without leaving behind a greasy film. Just pat your skin dry and follow up with your favorite gel or cream cleanser.
7
Best Squalane Cleansing Oil
Biossance Squalane + Antioxidant Cleansing Oil
Squalane is one of the most effective facial oils—it's super hydrating (but never heavy) and gentle enough for sensitive skin—so it's only fitting that it's a great cleansing agent too. This cleansing oil pairs squalane with a handful of antioxidant-rich ingredients, like evening primrose and sunflower seed oils, to lightly moisturize your face while removing makeup.
8
Best Cleansing Oil for Traveling
Eve Lom Cleansing Oil Capsules
Traveling with a cleansing oil can be annoying—I've had, like, entire bottles leak all over my toiletries—which is why these itty-bitty capsules are so genius. All you gotta do is twist open a single capsule (they're 100 percent biodegradable, BTW) and you'll get the perfect dose of Eve Lom's cult-favorite cleansing oil (which is spiked with oils like grapeseed and camelina).
9
Best Foaming Cleansing Oil
Skinfix Barrier+ Foaming Oil Cleanser
If you can't get behind an oil-based texture, you'll love this foaming cleanser from Skinfix. It's got all the benefits of a classic cleansing oil (thanks to the formula's coconut oil), but it creates a lightweight, foaming lather that leaves your skin ultra smooth and soft.
10
Best Cult-Favorite Cleansing Oil
DHC Deep Cleansing Oil
There's a reason most beauty editors consider this cleansing oil their desert-island product: The antioxidant-rich olive oil removes makeup so gently (and thoroughly!) that it actually makes washing your face kinda fun. The silky-smooth texture is suuuper lightweight too, so it doesn't actually feel like oil on your skin.
11
Best Argan Oil Cleanser
Burt's Bees Cleansing Oil With Coconut & Argan Oils
Argan oil—the hero ingredient in this cleanser—is arguably one of the best "intro" facial oils because it's super lightweight and mild enough for all skin types. It's also loaded with vitamin E and omega fatty acids, which work to hydrate and soften your skin.
12
Best Drugstore Cleansing Oil
Neutrogena Ultra Light Cleansing Oil
Guess what? Those gritty, citrusy, stingy face washes aren't the only cleansers at your drugstore. This super-affordable cleansing oil from Neutrogena is mild enough for most skin types, and when I say it really removes every trace of makeup, it really removes every trace of makeup.
13
Best Coconut Oil Cleanser
Kopari Coconut Cleansing Oil
Ultra-moisturizing coconut oil gives this cleanser its makeup-stripping abilities, so if you've got dry skin, prepare for it to feel hella hydrated. And can we just take a sec to admire the cute packaging?! Just be warned: If you're acne prone, you'll want to follow up with a second cleanser to remove any traces or residue of the coconut oil.
14
Best Oil Cleanser for Acne-Prone Skin
Erno Laszlo Detoxifying Cleansing Oil
I know it sounds counterintuitive, but oil cleansers can actually help regulate and calm oily and acne-prone skin. This gentle formula is spiked with anti-inflammatory grapeseed oil, a vitamin E–rich ingredient that soothes irritated skin and can even minimize the appearance of acne scars. And the more you hydrate your oily skin, the less oil it'll work to produce. YUP.
15
Best Natural Cleansing Oil
Tata Harper Nourishing Oil Cleanser
This natural cleansing oil from Tata Harper breaks down makeup and face oils without stripping your skin. So Your face will feel clean and soft but never tight, thanks to the soothing camellia oil in the formula.
16
Best Cleansing Oil for Sensitive Skin
Avène XeraCalm A.D Lipid-Replenishing Cleansing Oil
Harsh cleansers can seriously irritate sensitive skin types (especially with conditions like eczema or atopic dermatitis). This ultra-gentle cleansing oil cleans irritated, itchy skin without drying it out and helps repair damaged skin barriers with soothing vitamin E and evening primrose oil.
17
Best Cleansing Oil for Full-Coverage Makeup
Dermalogica Precleanse
Meet the oil cleanser that breaks down eight coats of mascara and full-coverage foundation like a g'damn pro. Oh, and the formula's conditioning rice bran and vitamin E oil smooth and soften your skin without leaving a greasy residue.
18
Best Cleansing Oil for Rosacea
Boscia Makeup-Breakup Cool Cleansing Oil
This soothing cleansing oil (which is infused with antioxidant-rich jojoba leaf) leaves red, irritated skin totally calm and soothed, courtesy of the formula's star ingredient: anti-inflammatory willow herb.
19
Best Lightweight Cleansing Oil
The Body Shop Camomile Silky Cleansing Oil
If you've stayed away from oil cleansers because you find them too thick or greasy for your skin, this formula will definitely change your mind. The blend of super-lightweight oils, like sunflower seed and sweet almond, is lightweight enough that you won't even feel like you washed with an oil at all.
20
Best Skin-Soothing Cleansing Oil
Kiehl's Midnight Recovery Botanical Cleansing Oil
This squalane formula was one of the first oil cleansers I ever tried, and it's so good, it's remained one of my all-time favorites. Other than the fact that it totally dissolves my makeup in less than 15 seconds of massaging, I'm also obsessed with its lavender scent (which is extra relaxing right before bed).
21
Best Cleansing Oil and Gel Hybrid
Belif Cleansing Gel Oil Enriched
Love the feeling of a gel cleanser but want the makeup-removing benefits of an oil? This oil-gel hybrid from Belif (which is formulated with skin-softening sweet flag herb and hydrating macadamia nut oil) will check all your boxes.
22
Best Oil Cleanser for "Normal" Skin
Tatcha Pure One Step Camellia Cleansing Oil
You really can't go wrong with this oil cleanser: It has camellia oil (an excellent source of vitamins A, B, D, and E) and natural anti-agers like green tea, rice, and algae, all of which work to cleanse, soften, and plump your pretty little face.
23
Best Oil Cleanser for Rough Patches
Juice Beauty Stem Cellular Cleansing Oil
Unlike intense cleansers that can dry you out, this formula from Juice Beauty brightens and tones your skin with organic fruit acids and sunflower oil. The result? Clean, smooth-as-hell skin.
This content is created and maintained by a third party, and imported onto this page to help users provide their email addresses. You may be able to find more information about this and similar content at piano.io
Advertisement – Continue Reading Below
.